CONNECT THE DOTS TO FINALLY 'SEE' THE GUITAR
After you've learned all the notes on the fretboard, the next stage in fretboard mastery is readily having chords, arpeggios, pentatonic and diatonic scale patterns under your fingers.
That's a lot to learn, so it has to be done gradually and the fretboard inevitably has to be broken up into smaller chunks to give you a sporting chance!
CAGED will do this for you!
CAGED is not a 'system' but the innate way in which the guitar works.
The fretboard has patterns.
CAGED will literally connect the dots.
Once you can learn these patterns, you have complete freedom and flexibility.
Whatever your musical goals or preferred style, CAGED is an invaluable visualization method that helps fuse together everything you will have learned to date and give you a framework to help accelerate your future learning.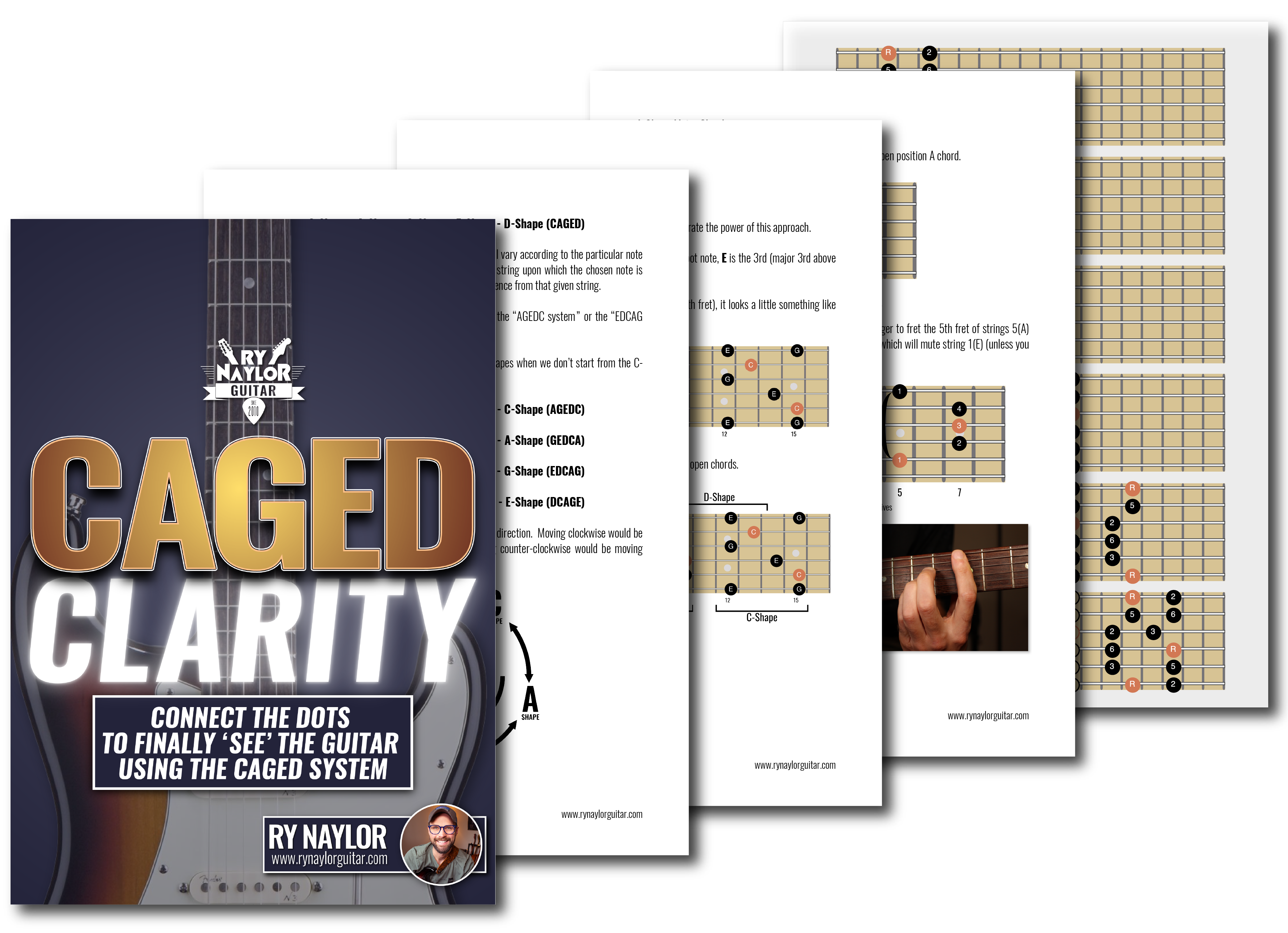 This 128-page eBooks includes:
A detailed overview of teh CAGED approach
In-depth breakdowns of all five of the major and five minor CAGED shapes, with fretboard diagrams, photos and TAB:
Moveable chord
Triads
Arpeggios (Major and Minor)
Pentatonic Scales (Major and Minor)
Diatonic Scales (Major and Natural Minor)

Also included
Specific practice exercises to internalise your new knowledge and apply it
Full colour-PDF charts for the optimal learning experience on tablet or desktop
Printer-friendly black and white charts for the practice room
Before you buy...

Please note that this product is sold as a digital download (PDF).
You will be able to download it instantly and print it at home after purchasing it.
You will receive access to the PDF as soon as you check out.
As the product is delivered upon confirmation of purchase, I am unable to offer any refund.