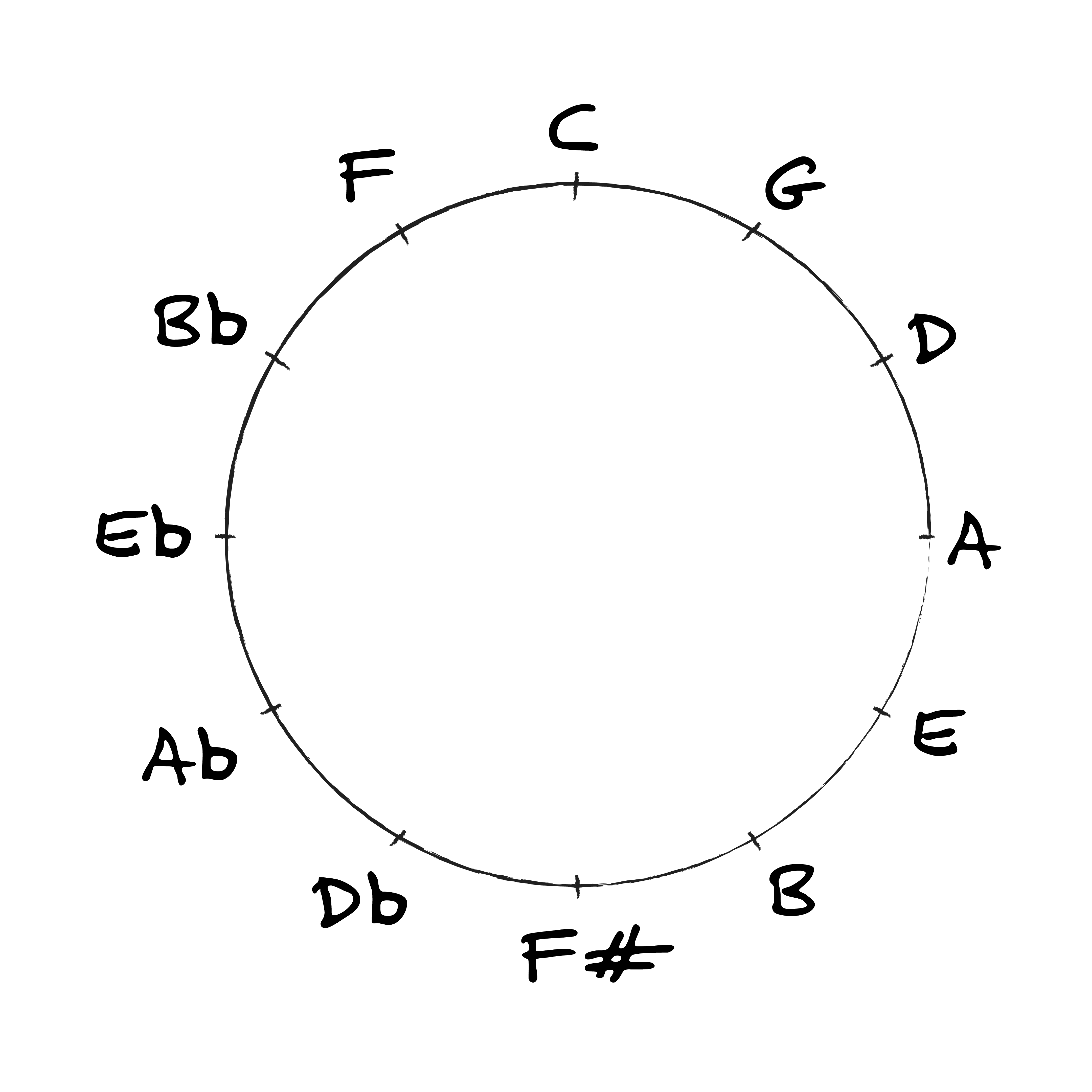 It's the notes going around a circle, but they're not in the right order. What's going on?
This is the Circle of Fifths
Whilst it might not look like much, there's musical magic afoot!
"The Rosetta Stone for Guitar"
"I recently purchased the "Easter E-Book Bundle" admittedly more interested in the CAGED and Chord E-Books. I figured the Guide to the Circle of Fifths was just a bonus. I couldn't have been more wrong.

 While the CAGED and Chord lesson series are also fantastic, I was completely blown away by the power of the Circle of Fifths. Prior to digesting this E-book, I was under the impression that the Circle was merely a tool for identifying the notes/chords in a given key. Wrong again!

Ry does an incredible job of clearly explaining the vast potential of the Circle of 5ths. After constructing the structure of the circle and its relationship to the fretboard, Ry demonstrates how the circle can be used to create scales, chord shapes, intervals, common progressions, borrowed chords/notes, and even modes.

Like the Rosetta Stone, the Circle almost magically provides a powerful tool to decipher so much music theory.

As is the case with all of Ry's e-books, the Guitarist's Guide to the Circle of Fifths also provides useful practicing strategies. While there are many resources on-line for guitarists' self-education efforts, they are often random and without a coherent structure. 

Ry's didactic approach allowed me to create mental "files" for structured practicing. I have the Guitarist's Guide to the Circle of Fifths saved on my desktop for quick reference.
Needless to say, I would highly recommend The Guitarist's Guide to the Circle of Fifths to any beginning/intermediate guitarist.

John Wilkes, USA

This eBook will show you how to get the most from The Circle
Across 180+ pages I'll share with you 12 Circle Facts that will truly blow your musical mind! 🤯
From exactly how The Circle is created through to using it in the study of intervals, chord construction, and major scale modes, each chapter methodically develops your understanding of The Circle and the beautiful logic it contains.
Let me guide you to learn how to...
Recreate The Circle for yourself
Remember the notes of ANY major or minor scale (key signatures)
Effortlessly recall the chords in any major or minor key
Know which chords will work perfectly together in your own songwriting or backing tracks
Understand how to develop your progressions with chord substitutions from The Circle
Use The Circle to work out songs by ear

Develop your understanding of intervals (like the tritone) and chord construction
Locate any major scale mode and its related modes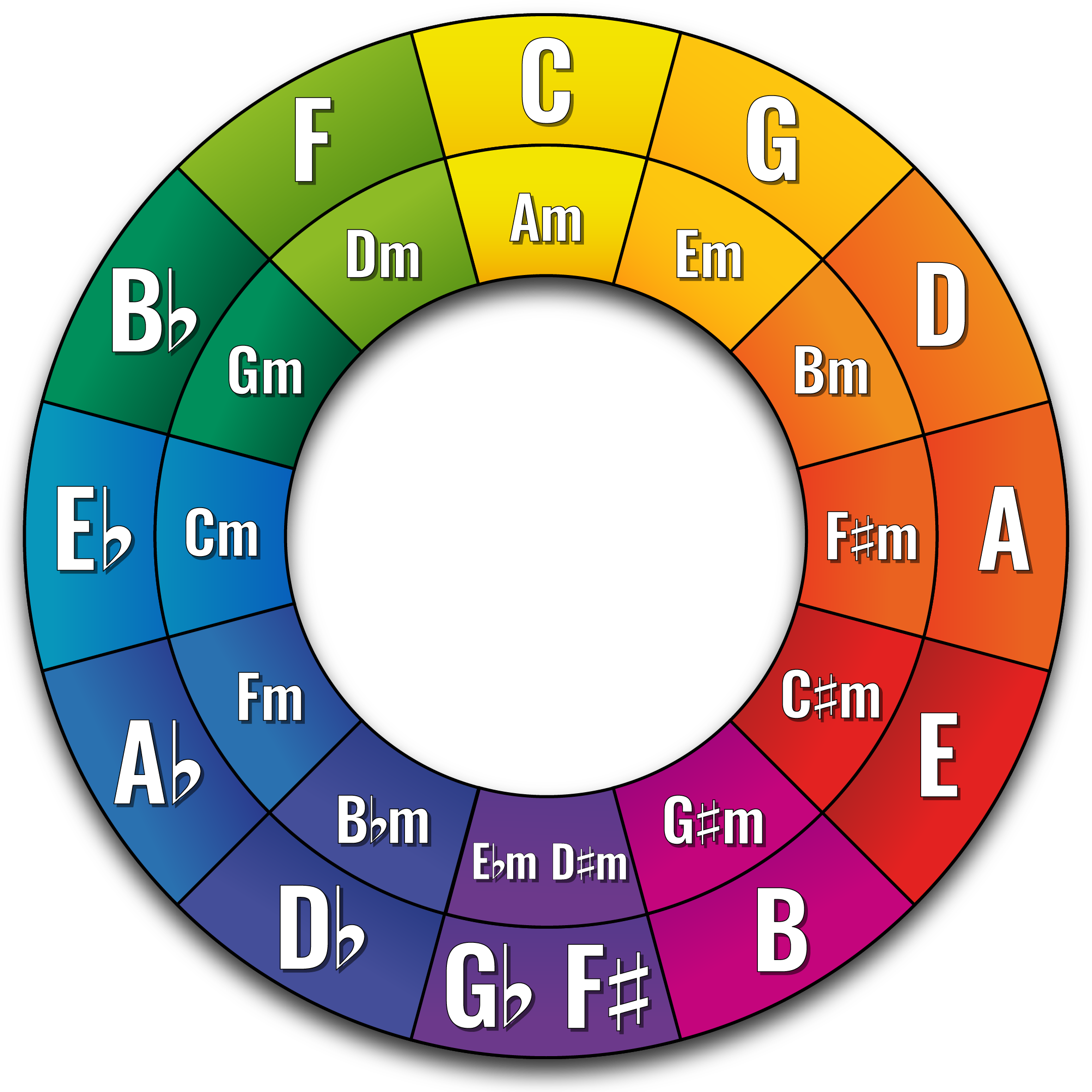 It's all in there (and more)
You just need to know where to look!

What students are saying
"This is an outstanding training/reference book on Co5ths! It's extremely well-written and beautifully illustrated, with the contents presented in a logical and easy-to-understand format. 
Ry is an exceptional guitarist and a terrific teacher as well. You'll find a TON of value from buying this book which, by the way, is also very reasonably priced! 
Highly, highly recommended resource for any guitarist!"
Adam Price, USA
"In the last three years, I have truly tried every instructor out there. I bookmarked all the sites, watched all the videos, and have suffered through dozens of poorly taught explanations on everything from intervals to modes.
Ry Naylor's instructional courses are the easy-to-digest and motivating content I was looking for, and 'The Guitarist's Guide to the Circle of Fifths' has been an absolute game-changer.
The theory is simple to understand, the visuals are clear and engaging, and guess what? It makes you want to play! The Circle of Fifths guide unlocks WAY more playing concepts than I thought it would.
Highly recommended for all guitarists, regardless of experience."
Adam Garel-Frantzen, USA
"Ry has successfully dissected the circle of fifths for the guitarist. He peels the layers of the circle like an onion and shows the relationship between note, chord, and key. The important thing to note here, is that Ry gives you practical applications to use the circle of fifths on your continuing guitar journey.
This is detailed and well illustrated with those characteristic excellent diagrams. My advice is to buy it and learn to unlock the DNA structures of guitar music."
Gordon Lynch, UK
"I thought I was pretty familiar with the Circle of Fifths (and couldn't imagine what you could have to say about it for 183 pages!), but I'm finding new insights in each section of the book, especially the more advanced concepts in Part 2.
As always, the diagrams are beautiful and helpful, and I really appreciate the "Test Your Knowledge" sections. Highly recommended."
Leisha Cook, USA
"I love Ry Naylor's books as they are so well constructed and the infographics are superb in conveying musical information in an easy-to-understand way.
The 'Guitarist's Guide to The Circle of Fifths' is another fabulous example of how to explain musical concepts in an engaging and exciting way. I have started the book and enjoying what I have read so far and I can't wait to get stuck into the meat of it and get my head around how useful the Circle of Fifths can be.
All Ry's books are excellent, and his new book is no exception I am really happy to add it to my collection of his books."
Michelle Deeprose-Dent, UK
"I have bought many books on The Circle of Fifths, but this is the first time it has been explained in a way that I could understand, I cannot recommend this too highly."
Graham Ellis, USA
"The Guitarists Guide To The Circle Of Fifths is absolutely awesome. The detailed theoretical information, the superb graphics, and the print layout, in general, is brilliant. 

Ry explains even the smallest fact in complete, concise, yet understandable detail. I consider this recent release to be of tremendous value, both financially and practically, to any guitar/music student, and would definitely recommend its' purchase."
Phil James, South Wales, UK
"It's all here, perfectly clear laid out insight into chords, scales, intervals, chord progressions, even a comprehensive way to study modes. All very well structured and built up from the basics of music theory using the circle of fifths.
It's the kind of course I wish I had when I started playing guitar, you don't really need anything else to make music. But I'm also very glad I picked it up now as it is an invaluable reference and Ry has a very clear way of structuring and presenting all the material which makes it all much easier to digest.
Also, offering examples and ways to explore and learn the vast amount of information found in the circle. I already knew a lot of it, but I was still astounded by the sheer amount of useful information.
This one is going up on my wall for sure!"
Gert De Groof, Belgium

As well as the music theory, I'll share my tips and exercises for applying your new knowledge in your guitar practice
At the end of each chapter I'll test your understanding with my 'Test Your Knowledge' quizzes
FAQs
Who is this book written for?
This book is aimed at players of all levels. For the absolute guitar theory debutant, the first chapters explain all the fundamentals of notes and intervals which allow you to build The Circle from scratch. Each chapter builds progressively on the previous chapters, with more advanced concepts in the final chapters. You can work through this methodically and continue to develop your understanding at your own pace as you feel ready for more.
How can I view the book?
'The Guitarist's Guide to the Circle of Fifths' is an A4 PDF document that can be viewed on a desktop, tablet, or phone. 
Can I download it more than once?
Absolutely! When you purchase the book it will be added to your store account which you can access at any point with your password to download the PDF as many times as you need. There's no risk of ever losing it or deleting it by accident.

Before you buy...

Please note that this product is sold as a digital download (PDF).
You will be able to download it instantly and print it at home after purchasing it.
You will receive access to the PDF as soon as you check out.
As the product is delivered upon confirmation of purchase, I am unable to offer any refund